Archaeologists have unearthed the earliest direct evidence of people smoking marijuana from a 2,500-year-old graveyard in western China.
As a millennial couple, you and your partner might not be planning to blend finances even if you've been together for a while.
Planned Parenthood is building the stage for another possible fight over abortion in Alabama: a large women's clinic that's under construction despite the state's passage of a near-total ban on abortions.
None of these is legit, even though they were shared widely on social media. The Associated Press checked them out. Here are the real facts.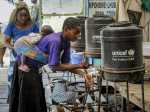 The World Health Organization on Friday said the Ebola outbreak is an "extraordinary event" of deep concern but does not yet merit being declared a global emergency.
Liberal environmental activist and lawyer Zuzana Caputova was inaugurated Saturday as the first female president of Slovakia.
Sometimes the best journalism tells us the worst news. But that's a function of the media that's essential to reporting - and to democracy.
The virtual currency bitcoin is responsible for the same amount of carbon dioxide emissions as a city like Las Vegas or Hamburg and efforts to reduce its climate footprint should be considered, researchers said Thursday.
The Honda Pilot has always been a strong choice for a midsize three-row crossover SUV. But Kia has recently introduced an all-new model known as the Telluride that it hopes will attract shoppers with its bold styling and value.
Workers at Volkswagen's plant in Chattanooga, Tennessee, voted Friday night against forming a factory-wide union, handing a setback to the United Auto Workers' efforts to gain a foothold among foreign auto facilities in the South.