Darkly Comic 'Miss America's Ugly Daughter' Re-Opens Feb. 8 at Greenway Court Theatre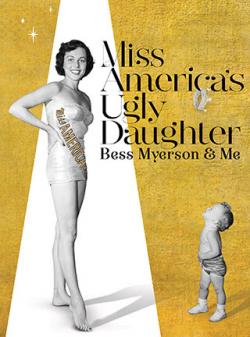 Writer/performer Barra Grant is back with her darkly hilarious mother-daughter story: The true, inside tale of Grant's seismic relationship with her mother, Bess Myerson.
Pageant Productions and Canon Theatricals present "Miss America's Ugly Daughter: Bess Myerson & Me," written by Grant and performed by Grant and Monica Piper. Eve Brandstein directs for a Feb. 8 opening at the Greenway Court Theatre, where performances continue through March 24.
Grant's critically acclaimed play is her fascinating account of growing up a confused ugly duckling in the shadow of her spectacular mother. An awkward, chubby kid with frizzy hair, buck teeth and no obvious talent, Barra was beauty queen Myerson's only child. The first and only Jewish Miss America, Myerson was famous — an accomplished pianist, television personality, New York City's first Commissioner of Consumer Affairs, a close advisor to Mayor Ed Koch, and a national spokesperson against anti-Semitism — until she became infamous, falling in love with the wrong man and going down with her Mafia boyfriend in a judge-bribing scandal.
In the play, Barra takes us on the journey of her life: a feisty struggle as she tries to fit in at school, meet the right man, find a career and forge her own place in the universe. But Bess (voiced off stage by Piper) is ever-present, fixated on "improving" Barra by molding her into a version of herself. Barra's final challenge occurs when she has a daughter of her own and has to discover a whole new set of parenting skills.
"Although not all of us have been raised by beauty queens, we are all seeking to understand how we came to be who we are," says Grant. "This is a story for any daughter who has had to maneuver her way around the potholes left by her mother, while trying to forge her own path."
Brandstein worked with Grant over the course of a year to develop the piece, and she directed last summer's sold-out run at the Edye Stage at the Broad in Santa Monica. "Barra's is a humorous, deeply moving story about a personal journey of self-discovery and survival," she says.
According to producer Suzi Dietz - a five-time Tony award nominee for Broadway productions of "The Lonesome West," "Topdog/Underdog," "The Little Dog Laughed," "Fela!," and "Mothers and Sons" - "It's a most unusual and powerful story. We get more than a peek into the life of one of America's most heroic, yet tragic heroines — and we see her through the eyes of a child, an adolescent and an adult."
Original music for "Miss America's Ugly Daughter" is composed by Mark Adler. The creative team includes scenic designer Elisa Schaefer, costume designer Florie Bunzel, lighting designer Ian James, projection and sound designer Tom Jones and graphic designer Deborah Keaton. The production stage manager is Phil Gold.
Barra Grant studied acting at the Drama Centre in London, where she went on to star in the BBC series "Take Three Girls." She appeared in several plays at the Mark Taper Forum and was a featured actress in both comedic and dramatic television. As a screenwriter, Barra wrote "Slow Dancing in the Big City" and "Misunderstood," which stars Gene Hackman. She wrote and also directed the features "Life of the Party" and "Love Hurts" with Carrie-Anne Moss, Janine Garafalo and Jenna Elfman. She produced the "Dirty Dancing" television series and wrote various daytime television shows, including the Emmy award-winning "The Tap Dance Kid." Her play "A Mother, A Daughter, and a Gun," starring Olympia Dukakis, has been produced in Los Angeles, Chicago and New York, and she directed her play "Spa" at the Coast Theater in Los Angeles. She is a story teller who has told her stories throughout the city. Grant has received Director's Guild and Humanitas nominations and is a recipient of a Writers' Guild Award.
Monica Piper has performed on some of America's most prominent stages, landing her own Ace Award-winning Showtime Special, "No, Monica... Just You," and being chosen as one of that network's "Comedy All Stars." Nominated for an American Comedy Award as one of the top five female comedians in the country, she was recruited by Rosanne Barr to write on the series "Roseanne." She went on to write for "Mad about You" and "Veronica's Closet." After a job with the adult cult-favorite "Duckman," she became the head writer of the number-one children's animated series "Rugrats," for which she won an Emmy Award. Monica has developed and written on several series for Nickelodeon, Disney and the Cartoon Network. She returned to her first love, performing, in the hit show "Not That Jewish," which played off-Broadway for over 200 performances and for which she received a Los Angeles Drama Circle Critics Award nomination for Solo Performance. She has also headlined across the country at fundraisers for City of Hope and the National Alliance on Mental Illness.
Director Eve Brandstein has helmed over 75 theatrical productions in Los Angles and New York, most recently "Rain Pyror's Fried Chicken & Latkes," which Eve will executive produce as a television series. She directed off-Broadway productions of "Shut Up, Sit Down & Eat," a hit that ran for two years, and "Voices of Swords." Brandstein has contributed to nearly every facet of the entertainment industry as a director, studio executive, producer, writer/creator, talent manager, casting director and author. Other recent credits include the N.Y. and L.A. premieres of "Re­visiting Wildfire," "Ronnie Spector's Beyond the Beehive," "Waiting for Jack - A Beat Poetry Reunion," "Claiming Allen Ginsberg" and "Suzanne Wang's Cracked Open." For L.A.'s Jewish Women Theatre, Eve has directed "Stories from the Fringe," "Saffron and Rosewater," and "Hold Me, Heal Me." She is currently producing Poetry in Motion, a spoken-word at Beyond Baroque in Los Anegels and at the Cutting Room in New York City.
"Miss America's Ugly Daughter" opens on Friday, Feb. 8 at 8 p.m., with performances thereafter on Saturdays at 8 p.m.; Sundays at 6 p.m.; and Mondays at 8 p.m. through March24 (dark Sunday, Feb. 24). Tickets are $40 on Saturdays and Sundays and $25 on Mondays. Every Monday is "Mother-Daughter Monday": mothers and daughters can buy one, get one free. Tickets for students and seniors are $20 at all performances. In addition, three preview performances will take place on Saturday, Feb. 2 at 8 p.m.; Sunday, Feb 3 at 6 p.m.; and Monday, Feb. 4 at 8 p.m., for which tickets are $15.
The Greenway Court Theatre is located at 544 N. Fairfax Ave., Los Angeles, CA 90036. Free parking is available on-site. To purchase tickets, call (323) 285-2078 or go to MissAmericasUglyDaughter.com .
Comments on Facebook