'Trump of the Tropics' Yanks Funding for LGBTQ Films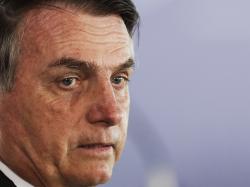 Self-described homophobe and Brazilian president Jair Bolsonaro is well known to harbor a keen nostalgia for the days when Brazil was a military dictatorship. Evidently, he also fancies himself a cultural critic: The so-called "Trump of the Tropics" — a nickname Bolsonaro reportedly enjoys — has announced from on high that the government will no longer provide funding for films if they have LGBTQ content, Reuters reports.

Word came down about the not-so-surprising development via the preferred means of autocrats in both North and South America for legislating and communicating with their subjects: Via a post online. Bolsonaro unveiled the new curtailment at the government's website earlier this week after teasing the change during a livestream some days earlier.

In that livestream, Bolsonaro called the funding of films relevant to the LGBTQ experience "throwing money away," Reuters noted.

The project Bolsonaro cited by name in that livestream is titled "Transversais," Reuters said, a documentary in five parts about five trans Brazilians. The project is the brainchild of director Emerson Maranhao, who called Bolsonaro's comments about the documentary "pejorative and dishonoring," and slammed the country's president for "harming 80 projects just to get to ours."

Bolsonaro also went after "Afronte," a TV series about gay male Brazilians, reported gcn. Bolsonaro critiqued the idea of a program about "the reality lived by black homosexuals in Brasilia," the article said.

The man behind "Afronte," Bruno Victor, told the media, "It is important to state Bolsonaro's act is a kind of censorship. He spoke of our project with ignorance and lack of respect for all professionals involved in it."

While Bolsonaro fiddles with the livelihoods of his nation's cinematic artists, his nation is burning - literally: A number of nations have expressed dismay over the accelerating loss of Amazonian rain forest due to fires thought to have been set by farmers.

The Amazonian rainforest supplies the Earth's atmosphere with an estimated 20% of its oxygen, without which animals - including human beings - cannot survive.

Bolsonaro, who has encouraged farmers to cut deeply into the rainforest, denied that agriculture was to blame, and claimed - without evidence - that the fires were arson attacks perpetrated by NGOs that disagree with is regime, /cnet reported.
Kilian Melloy serves as EDGE Media Network's Assistant Arts Editor. He also reviews theater for WBUR. His professional memberships include the National Lesbian & Gay Journalists Association, the Boston Online Film Critics Association, The Gay and Lesbian Entertainment Critics Association, and the Boston Theater Critics Association's Elliot Norton Awards Committee.
Comments on Facebook