The Ground Beneath My Feet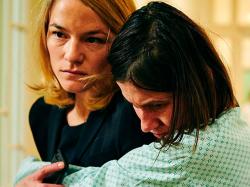 For women working in the brutal, cut-throat world of corporate consultancy, an already high-pressure job set in a testosterone-fueled, sleep-deprived environment is extra hard. Throw in some jittery (if closely-held) personal anxieties and familial secrets, and even the smartest, calmest woman might find herself wondering just what's real, what's not, and whether she's about to say or do something that could cripple or kill her career.

That's the problem faced by Lola (Valerie Pachner), a rising star at a firm that helps troubled businesses reorganize. Lola keeps her professional life in strict order, compartmentalizing it from the messy problems around her mentally ill older sister, Conny (Pia Hierzegger) and the enormous energy it takes to deal with Conny's sporadic bouts of attempted suicide and the stints in hospitals that ensue. Her first words in the movie fall somewhere between guilty hope and soul-eroding dread: "Is she dead?" For all of Lola's generosity, advocacy, and guardianship on behalf of her sister, the plain truth is that her candle is already burning at both ends and Conny's needs are nothing less than a bonfire in their own right.

Writer-director Marie Kreutzer packs so much into "The Ground Beneath My Feet" that it's hard to say exactly what this film is about or what genre it slates into - or if it out and out blows up the concept of genre. The story encompasses the glass ceilings and male chauvinism that women in the corporate world must deal with; it's a deeply probing drama about a lesbian romance that's complicated by the fact that Lola's lover, Elise (Mavie Hörbiger), is also her boss; and it also serves, at least for a while, as a psychological thriller, when it turns out that the calls Lola's getting from a panicked Conny can't possibly be coming from Conny at all. This last is the film's most successful mode, as it sets up an organic and intriguing premise: That both Lola and Conny dwell in universes of paranoia and schizophrenia, infernos in which love and loyalty can instantly melt into suspicion and betrayal. The main difference is that Lola's private hell is the workplace, whereas Conny's is her own mind.

This particular strain of uncertainty also enlivens other aspects of the film. While dining with decision makers from a potential client firm, Lola projects a confident and informed façade; but when one of the men she's dealing with makes frank sexual overtures, she — and we, along with her — have a moment's uneasy doubt on top of the inherently repulsive nature of the exchange: Did he really say that to her just now? Or is the same disease that Conny suffers from starting to reveal itself in Lola's grasp of reality, also?

Things are just as ambiguous when it comes to Lola's affair with Elise, who keeps promising her professional advancement as well as personal romantic happiness. Once Elise finds out about Conny, will she keep her promises to shepherd Lola's career to the next level by making her a leader on the team that's assigned to the big contract the company's trying to land? How about Elise's repeated, seemingly sincere talk about the two of them moving to Australia and sharing a flat in Sydney for a couple of years, while they work on new prospects there? Love is important, of course, but Elise — like Lola — is in the game to win, and it's obvious that there will have to be sacrifices and disappointments along the way.

Pachner and Hörbiger are terrific together as two closely allied, brilliant women who find themselves locked in a power struggle; Pachner and Hierzegger as just as effective when they share the screen, fighting it out as sisters with an extremely complicated dynamic. Somehow, Kreutzer's direction holds the film together and keeps it moving. Part "Working Girl," part "Tony Erdmann," and part 100-proof delirium, this is a workplace fever dream that radiates heat in all directions.
The Ground Beneath My Feet (der Boden Unter Den Füßen)
Not yet 30, gorgeous Lola is a jet setting business consultant who excels at the aggressive tactics and nonstop work her job requires. She manages her personal life with the same ruthless efficiency she uses to optimize profit margins. Fearing a negative work environment, she keeps her steamy relationship with her boss Elise a secret, as well as the existence of her older sister Conny and her family's history of mental illness. But when a tragic event forces Conny back into Lola's life and all her secrets begin to unravel, Lola's grip on reality slips away.
Info
Runtime :: 108 mins
Release Date :: Jan 01, 2019
Country :: Austria

Crew
Kilian Melloy serves as EDGE Media Network's Assistant Arts Editor. He also reviews theater for WBUR. His professional memberships include the National Lesbian & Gay Journalists Association, the Boston Online Film Critics Association, The Gay and Lesbian Entertainment Critics Association, and the Boston Theater Critics Association's Elliot Norton Awards Committee.
This story is part of our special report titled "OUTfest 2019." Want to read more? Here's the full list.
Comments on Facebook