Watch: Fox's Tucker Carlson Says Buttigieg Supporters 'Want to Consume Him... Yum'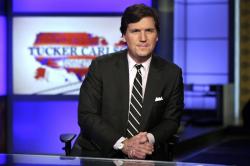 Fox News host Tucker Carlson is no stranger to making incredibly strange remarks (especially about the LGBTQ community) but his latest take on South Bend, Ind. Mayor Pete Buttigieg may take the cake.

Tucker takes a quote from an MSNBC correspondent who said the openly gay 2020 Democratic presidential hopeful is "chicken soup for my soul" — a remark that apparently set him off against those who are showing support for Buttigieg.

"Chicken soup for my soul? Even by the naughty standards of the news media, this is a new level of political commitment," Tucker says. "They don't want to just vote for this guy, they want to consume him like a hearty stew...Every last drop of Buttigieg. Yum. They're all in."

A clip of Tucker's comments was posted on Twitter and unsurprisingly went viral, earning nearly 3,000 retweets and over 15,300 likes.

Buttigieg has quickly risen in the polls and among the crowded field of Democrats vying for the 2020 presidential nomination and he officially announced his 2020 campaign entrance over the weekend.

Watch the clips below.



Comments on Facebook