Fireflies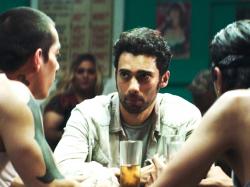 Now on DVD & Digital!

- - -

After escaping from Iran where he was persecuted for being gay, Ramin (Arash Marandi) mistakenly takes the wrong freighter out of the port and ends up stranded in Veracruz, Mexico. It is hardly the vibrant city that it once was, now decaying and demoralized like so many of people who seem to be stranded there just like him, in the film "Fireflies."

Desperately lonely, and unable to afford a passage back to Europe, Ramin grabs at the odd friendship of Leti (Edwarda Gurrola), the receptionist at the shabby hotel that is now home. Ramin persuades Leti to teach him Spanish.

Working as a casual laborer in a construction site one day, Ranin meets up with Guillermo (Luis Alberto), a former gang member from El Salvador who has left his home country to escape a life of violence and crime. As the two men get close, Ramin is too scared to reveal his sexuality even though he finds himself falling in love with this rough thug. It can only end in tears.

There is another relationship problem running parallel to that: Leti finds out that her boyfriend, who abandoned her years ago to go to the United States, will return to Veracruz. She is totally confused about how that may disrupt her life again. Like Ramin, she decides that, for her own survival, the best option is to hide her true feelings.

The threat of violence is never that far away, and for Ramin that stirs up too many memories of the life he left behind. He knows, however, that he has made his own bed (albeit somewhat reluctantly), and now must lie in it, no matter how tough that might be.

This sophomore feature film by by Iranian filmmaker Bani Khoshnoudi (who lives in Mexico) is a powerful tale about the difficulties of being true to oneself in a hostile environment. With a pitch-perfect performance from Marandi as Ramin, we really feel the desperation faced by so many reluctant LGBTQ people displaced around the globe.

PS. The title "Fireflies" is inspired by a 1975 op-ed by the late Italian filmmaker Pier Paolo Pasolini, who described "the state of fascism and cultural resistance in Italy at the time, creating a metaphor for resistance as the disappearance of fireflies," said Khoshnoudi.
Roger Walker-Dack, a passionate cinephile, is a freelance writer, critic and broadcaster and the author/editor of three blogs. He divides his time between Miami Beach and Provincetown.

This story is part of our special report titled "Seattle Queer Film Festival." Want to read more? Here's the full list.
Comments on Facebook