Everybody Knows (Todos Lo Saben)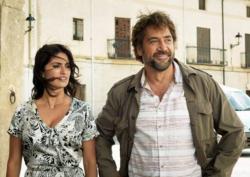 When someone goes missing in an Asgar Farhadi movie, it is time for concern. Such was the case with "About Elly," his riveting 2009 drama that followed what happened when the title character disappears while on vacation with friends and family at an Iranian beach resort. The same plot device informs Farhad's newest film, "Everybody Knows"; in this case, it is the teenage daughter of top-billed Penelope Cruz who goes missing.

The setting is a remote Spanish town that Laura (Cruz) visits to attend her sister's wedding. She has traveled from Argentina with Irene, her teenage daughter and Diego, her young son, but without her husband Alejandro, who can't travel because of work. Her large family is introduced in a dizzying fashion in the opening sequence, in which the many guests arrive, who not only include members of Laura's family, but those of the groom's and the many neighbors and friends, who include winegrower Paco, (Javier Bardem). Years before, he was romantically linked to Laura, a relationship that is something, as its title suggests, that everybody knows.

That piece of information is divulged by a teenage boy whom Irene meets upon arrival and flirts with, first on a motorbike and then in the bell tower of the church where the initials of Laura and Paco are carved on the graffiti-filled walls. Irene is a bit rebellious, ringing the church bell while the wedding ceremony goes on in the church below. The moment allows the priest to thank the absent Alejandro for financing rebuilding the façade of the church with hopes that he might take on the bell tower next.

The mention of Alejandro's wealth doesn't register amongst the tumult of the wedding and the reception, which Farhadi stages with warmth and humor; but comes to play more seriously once the lights go out and Irene goes missing. The kidnappers demand a hefty ransom and that no one contacts the police. Newspaper clippings of an earlier child kidnapping gone bad left behind on Irene's bed only underscore that these kidnappers mean business.

In the melodrama that follows deep-rooted resentments against Paco by Laura's family involving how he acquired the land (now a successful vineyard) come to the surface. Perhaps the best advice Laura and Paco should follow is to keep your friends close and your enemies closer.

The film evolves into an Agatha Christie mystery in which everyone — from Paco and his wife Bea to the local young people hired to film the ceremony become suspect. That Laura and Paco were an item also comes to play, significantly with the big reveal that comes two-thirds of the way through. This reveal turns out to be obvious turns the story into a melodrama about Laura's relationship with the men in her life and with her family, some of whom may not be acting in her best interest.

Farhadi is an expert at examining the frictions in relationships that come to light in extraordinary circumstances, as well as their larger social and political implications. Working on his first European sponsored film, he replaces the repressive social politics of his native Iran with the more tribal ones found in this Spanish town. But instead of building to a cathartic conclusion, Farhadi, who also wrote the script, appears stymied by his own mystery and the darker impulses of his characters. He ends the film on an inconclusive note that may or may not allude to justice being done.

That's not to suggest that "Everybody Knows" isn't worth viewing. Farhadi is an expert at establishing character and mood, easily transitioning from the boisterous wedding sequence to the darker, more urgent search for the missing girl. One of the more memorable scenes has the townspeople watching the wedding videos as they search for clues, seeing themselves in a celebratory mood that diminishes with Irene's disappearance. As he shows in his previous work, Farhadi has a great rapport with his actors, notably Cruz and Bardem who bring pathos to a couple that can't escape the past no matter how hard they tried.
Everybody Knows
Collegian Tree Gelbman wakes up in horror to learn that she's stuck in a parallel universe. Her boyfriend Carter is now with someone else, and her friends and fellow students seem to be completely different versions of themselves. When Tree discovers that Carter's roommate has been altering time, she finds herself once again the target of a masked killer. When the psychopath starts to go after her inner circle, Tree soon realizes that she must die over and over again to save everyone.
Info
Runtime :: 133 mins
Release Date :: Nov 30, 2018
Language :: Silent
Country :: Spain

Cast
Laura :: Penélope Cruz
Paco :: Javier Bardem
Alejandro :: Ricardo Darín
Fernando :: Eduard Fernández
Ana :: Inma Cuesta
Bea :: Bárbara Lennie
Mariana :: Elvira Mínguez
Antonio :: Ramón Barea
Irene :: Carla Campra
Felipe :: Sergio Castellanos
Rocío :: Sara Sálamo
Joan :: Roger Casamajor
Luis :: Jaime Lorente

Crew
Producer :: Alexandre Mallet-Guy
Producer :: Álvaro Longoria
Executive Producer :: Pilar Benito
Cinematographer :: Jose Alcaine
Film Editor :: Hayedeh Safiyari
Original Music :: Javier Limón
Director :: Asghar Farhadi
Director :: Asghar Farhadi
Producer :: Alexandre Mallet-Guy
Producer :: Álvaro Longoria
Executive Producer :: Pilar Benito
Cinematographer :: Jose Alcaine
Film Editor :: Hayedeh Safiyari
Original Music :: Javier Limón

Comments on Facebook