Ice King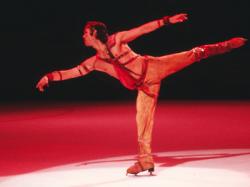 This film is appearing in Out On Film in Atlanta. http://http://www.outonfilm.org/
"Ice King" is James Erskine's film about figure skater Britain Olympic skater John Curry and, without doubt, is one of the most notable documentary films this year at Outfest. Based on Bill Jones' 2016 biography "Alone," Erskine, who wrote and directed, has produced an altogether captivating documentary of a champion gay athlete and a complex man.
"I wanted to be a dancer, I was allowed to ice skate, because it was a sport, they thought it was okay.... I wanted to skate better than anyone I had seen skate before, in a different way," Curry is heard saying in a voiceover interview as the film opens with gorgeous archival footage of his performance on ice of dancer Vaslav Nijinsky's "Afternoon of the Faun" scored to music by Debussy. The power of his precision and artistic expression is just as thrilling to see now as it was then.
Erskine's dynamic use of archival footage of Curry in performance, in rehearsals and archival media interviews, is laced throughout with brief remembrances of his artistry and influence on the sport from his skating luminaries, including Cathy Foulkes, Dick Button, Lorna Brown, and Robin Cousins.
Curry grew up in the industrial town of Birmingham in the '60s, so it was no surprise that his strict father, a veteran of WWII, forbid him to dance. John saw figure skating on TV and chose it as the next best thing. He was such a natural that he won competitions from the moment he stepped on the ice. "It was my world where I could be free and alone."
By the mid-1970s, Curry was a strong competitor, already a European champion, leading into the Olympic trials for the 1976 Winter Olympic games at Innsbruck, Austria, and he was determined to skate his own way. Curry ignored professional Olympic coaches who warned him against being "expressive" (code for gay) in Olympic competition. The men's singles had turned into a cold technical merit sport based on the execution of speed, precision and jumps, and was dominated by Russian technique. Adding to that challenge was the fact the judges at Innsbruck were from Soviet bloc countries.
To beat those odds, Curry skated to Ludwig Minkis' ballet music to Don Quixote, which Curry himself "choreographed... in a way that there would be no doubt that the judges would see the technical merit," as he later told reporters. It was so dynamic that he took the gold with almost unanimous 5.9s, proving that he even convinced the Soviet judges.
Curry was frank and aggressive about his sport to the press, speaking of his Russian competition, he stated publicly that he hated the hyper-masculine style, the technical requirements in the judging that didn't allow any artistic expression.
Curry told a reporter - off the record - that he was gay, but he was immediately outed in the press. Heroically, Curry just as immediately wasn't going to deny it. Even though he expected to be vilified or at least professionally maligned, the British people embraced him as their national hero.
Erskine keeps Curry's personal life central to the film and his first lover, Swiss skater Heinz Wirz, is interviewed about their relationship, the romantic aspect of which ended but which blossomed into a lifelong friendship. Erskine doesn't avoid the fact that Curry loved the fast lane of New York's gay nightlife in the '70s. When he became involved in a tumultuous relationship with one of his dancers, partaking in the SM club scene, it led to excessive partying and incidents that started to affect his professional life.
After his Olympic win, Curry immediately went on to create professional ice skating companies, and modeled them after contemporary dance companies. His troupes performed at the Albert Hall in London and the Metropolitan Opera in New York. He hired live orchestras and some of the world's top choreographers including Eliot Feld, Twyla Tharp, and Peter Martins.
It was an overly ambitious, expensive enterprise, fraught with production problems, and Curry was not only performing, but at the center of a theatrical storm. He was creating a new landscape for ice virtuosic choreography and perceptions about professional skating. He found it absurd and insulting that professional skaters would have to end up as Disney characters on ice after their competitive careers were over.
This is a well-written, directed, and thoughtfully and beautifully edited documentary with stunning film footage of locales including London, Vail, New York, and Copenhagen. Bill Jones' bio is more detailed about the Curry's life after his AIDS diagnosis and his activism toward public awareness; it's a good book to pick up after seeing the film.
Lewis Whittington writes about the performing arts and gay politics for several publications.
Comments on Facebook