Watch: Kevin Hart Goes on 'Late Show,' Talks About How He Won't Talk About Anti-Gay Comments Anymore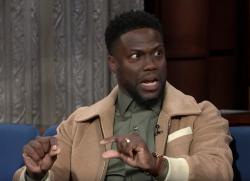 Kevin Hart appeared on "The Late Show" with Stephen Colbert Wednesday night to continue his apology tour — sort of.

After his Oscars debacle — where he was announced as host but later stepped down due a backlash over anti-gay tweets and jokes he made in the past — Hart apologized to the LGBTQ community on Twitter and then (sort of) again on "The Ellen Show," where Ellen DeGeneres urged that he continue to host the ceremony. Earlier this week, Hart fired off a stern apology to the LGBTQ community yet again.

Appearing on "Good Morning America" Wednesday, Hart confirmed he's not hosting the 91st Academy Awards and said, "I'm over it."

On "The Late Show," Hart mostly dodged questions about the anti-gay backlash and the topic wasn't brought up other than that the comedian was "in the news lately."

"Is there anything about the way you've handled this situation over the last month that you would go back and change if you had a time machine?" Colbert asked Hart.

Hart answered no but Colbert pointed out that he initially refused to apologize before apparently changing his mind. Hart then repeats what he said on "GMA."

"It's an onion," he said. "So no matter how many times you keep peeling it, it's just endless. . . I'm done. I did it. I'm over it. There is no more that I can do. I've done it."

His remarks sparked the audience to applaud.

Colbert then noted how he's been telling jokes for over a decade now, adding, "I've found that it's not over until the audience is over it—not when I'm over it. So do you have a sense that the audience is over it?"

"Well, here's the difference," Hart said. "You can continue to live to please others, or you can have a position where you know that you've literally done what you can to try to please.

"At that moment—when you know that you've given your all to try to please and it's still not received—you have to make a decision to go, 'I'm done trying to please,'" he added.

Colbert then said that pleasing an audience is part of an entertainer's job.

"It depends on the level of entertainer that you are. My job is me putting myself out there 24/7," Hart said. "I'm authentic. I'm honest. I give you all of me. There is no version of me that's fake. The bonus of doing that is that when things like this happen, you're supposed to understand and know that I'm so true to me, that there is no B.S."

Hart then went on to say that he apologized for his old jokes before the Oscars controversy (but that has been debated).

"At some point, you just have to be O.K. with you," Hart said. "I'm O.K. with me and all decisions that I've made in my life. This is a decision to say, 'I'm done. I'm over it. That's it."

The audience then applauds again.

Watch the clip below.
Comments on Facebook