1 thru 10 of 4033 Stories
Foreign-born residents had higher rates of full-time employment than those born in the United States last year, and naturalized immigrants were more likely to have advanced degrees than the native-born, according to figures released Monday.
The "fundamentals" of the U.S. economy are solid, the White House asserted, invoking an ill-fated political declaration of a decade ago amid mounting concern that a recession could imperil President Donald Trump's reelection.
Drug companies are still raising prices for brand-name prescription medicines, just not as often or by as much as they used to, according to an Associated Press analysis.
A number of U.S. business economists appear sufficiently concerned about the risks of some of President Donald Trump's economic policies that they expect a recession in the U.S. by the end of 2021.
If the threat of a recession gives you pause when it comes to your personal finances, remember now is a time to prepare, not panic.
The Federal Housing Administration is changing regulations to make it easier for more first-time condo buyers to receive mortgages.
Tapestry Inc.'s shares lost nearly a quarter of their value Thursday after the upscale handbag and fashion company said that it would have an unexpected drop in profit and revenue in the current quarter.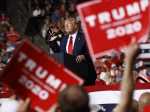 President Donald Trump on Thursday sought to reassure his supporters about the state of the U.S. economy despite the stock market volatility and told rallygoers in New Hampshire that their financial security depends on his reelection.
How fragile is the global economy? The U.S.-China trade war is weakening businesses in both countries, Germany's economy shrank in the second quarter, and Britain appears headed for a disruptive exit from the European Union this fall.
A massive immigration raid in Mississippi revived a longstanding complaint: Unauthorized workers are jailed or deported, while the managers and business owners who profit from their labor often go unprosecuted.
1 thru 10 of 4033 Stories