1 thru 10 of 3815 Stories
Students who applied for financial aid through the Free Application for Federal Student Aid should be receiving their award letters right about now. But deciphering how much assistance you're getting can be confusing.
Additional provocative commentaries about women written by Stephen Moore, President Donald Trump's pick for the Federal Reserve board, emerged Tuesday, a day after a second White House Fed choice withdrew from consideration.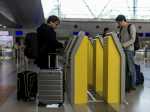 It's not the first time Argentines have sought shelter in Europe in times of economic uncertainty. Hundreds of thousands emigrated to the old continent to escape hyperinflation in the early 1990s and an economic meltdown in 2001 and 2002.
Democrat Elizabeth Warren is proposing the elimination of existing student loan debt for millions of Americans, part of a sweeping set of education funding proposals.
The financial condition of the government's bedrock retirement programs for middle- and working-class Americans remains shaky, with Medicare pointed toward insolvency by 2026.
It's a thin line where the patina of age on Europe's countless monuments gives way to the onset of neglect. Like with so many loved ones, all is assumed to be fine, until suddenly it's not.
President Donald Trump's efforts to reshape the Federal Reserve stumbled on Monday, with one of his potential nominees for the Fed's board withdrawing from consideration and another being enveloped by fresh doubts.
For many yellow vest protesters, the stinging sadness that came with the devastating fire at Notre Dame Cathedral has quickly given way to boiling anger: They feel unheard by politicians and billionaires.
Rebuilding Notre Dame, the 800-year-old Paris cathedral devastated by fire this week, will cost billions of dollars as architects, historians and artisans work to preserve the medieval landmark. But little of the money will come from insurance companies.
The Trump administration on Wednesday proposed new regulations aimed at making it easier for investors to take advantage of tax breaks for investing in "Opportunity Zones" in low-income areas.
1 thru 10 of 3815 Stories