1 thru 10 of 6334 Stories
The Trump administration is close to completing one of its biggest rollbacks of environmental rules, replacing a landmark Obama-era effort that sought to wean the nation's electrical grid off coal-fired power plants and their climate-damaging pollution.
A survivor of the Parkland school shooting announced Monday that Harvard University withdrew his admission over racist comments he made in a shared Google Doc and text messages nearly two years ago.
The chief salesman for Airbus says his company already has the technology to fly passenger planes without pilots at all — and is working on winning over regulators and travelers to the idea.
Mastercard will allow transgender people to use their chosen names on credit cards in an effort to combat discrimination at the cash register.
The National Atomic Testing Museum in Las Vegas has outgrown its space east of the Las Vegas Strip, according to museum officials, who are looking for a new location to expand the facility's nuclear testing exhibits.
The fast-growing market for meat alternatives has a surprising new player: Tyson Foods.
The cast of Fox & Friends showed their support for the Texas "Save Chick-fil-A" Bill Wednesday with a segment catered by Chick-fil-A.
Nursing facilities have failed to report thousands of serious cases of potential neglect and abuse of seniors on Medicare even though it's a federal requirement for them to do so, according to a watchdog report.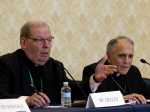 U.S. Catholic bishops voted Wednesday to create a new national sex-abuse hotline run by an independent entity, a decision that represents one of the church's most tangible steps yet in confronting its sex-abuse crisis.
Acosta writes that there are not two sides to a story when it is a matter of right and wrong. But he said he had no problem telling Trump, in one encounter, "Mr. President, there are no fine people in the Nazis."
1 thru 10 of 6334 Stories