Dark Shadows
The cult soap opera from the 1960s-70s gets a quirky and expected update from visionary director Tim Burton to surprisingly tepid results. As written by novelist Seth Grahame-Smith ("Abraham Lincoln :Vampire Hunter"), from a story by John August and Grahame - Smith, based on the TV series, "Dark Shadows" retains some of the camp that made it a guilty pleasure hit, even though the soap was probably intended to be more serious than it turned out. Here, Burton goes the goofy route and populates the film with all sorts of eccentric actors to make the proceedings even nuttier.

In an extended opening, Barnabas Collins (Johnny Depp) tells the story of how he came to be a vampire two centuries ago. It involves the rejection of one woman (a witch played Eva Green) for another, a suicide and a family curse. All of this occurs prior to his being buried alive in a sealed coffin near his family's newly built mansion in Collinswood, high on a bluff on the coast of Maine.
Cut to 1972, where the town (renamed Collinsport) is a bustling center of the fishing industry run by Angelique Bouchard (also played by Green.) She has taken over the business of the town and is looked at as a sort of celebrity. Meanwhile, Victoria Winters (Bella Heathcote) arrives at the Collinswood estate - now a rundown ancestral castle complete with dusty chandeliers and dowdy furniture - to be a nanny to the oldest child David (Gulliver McGrath); a boy who claims to see the ghost of his dead mother. Here, the rest of the Collinswood clan is introduced:

Elizabeth Collins Stoddard (Michelle Pfeiffer) is the cold and controlling family matriarch. Her brother Roger Collins (Jonny Lee Miller) is a puffed-up opportunist that seems to be living on the family's dime. Elizabeth's fifteen-year old daughter Carolyn (Chloe Grace Moretz) is the typical moody adolescent who pouts her way through the days when she's not getting lost in some groovy 1970s hippie music. Lastly, there is the live-in therapist for David, Dr. Julia Hoffman (Burton staple Helena Bonham Carter) who is either drunk or hung-over 100% of the time.
This ridiculous crew of people sets the stage for what should be an over-the-top melodrama that gets more amplified when Barnabas is accidentally released from his "prison." He then returns like a fish out of water to the family estate where things really kick in. How he learns to adapt to a new century is half the fun of the movie; and while a few jokes feel obvious, Depp makes this great fun.

But then the plot kicks in and it has something to do with saving the family's canning company and undermining the devious plots of Angelique who reveals early on that she is none other than the very same witch that cursed poor Barnabas. There is a myriad of side plots involving trying to get Barnabas to be human again, dealing with David's ghostly visions, a potential love affair with Barnabas and Victoria who is a dead ringer for his "one true love," and some greedy family machinations. The problem here is that none of these subplots stick. Even the morning after viewing the film, I can barely remember what happens from the mid-point of the film until the end. Nothing is particularly interesting or fresh, and the finale set-piece reminded me of the original "Fright Night."
Since the innovative TV series was known for mixing camp elements with melodrama, one would assume that Burton would have amped up these features. But aside from a few glimmers, it's played fairly straight-forward (in a "we know we're in a comedy" way.) Had they gone full tilt and truly camped it up in the same way that "Death Becomes Her" allowed Meryl Streep and Goldie Hawn to really overplay their moments, this might have been truly hilarious. As it stands, it has a few clever lines and gags, some jokes that feel too sophomoric for the actors involved, and ultimately, nothing really to root for or sustain our interest.

Visually it looks terrific, however it harkens back to Burton's usual esthetic of "Sleepy Hollow" and "Beetlejuice." Nothing about the sets or landscapes seems that original as this is Burton's usual playground.

With a sharper script and the direction to really take things over the top, this could have been a classic. Instead, it's a rather ho-hum event that seems more suited to a night at home with a pizza rather than a pricey night out at the movies.
Dark Shadows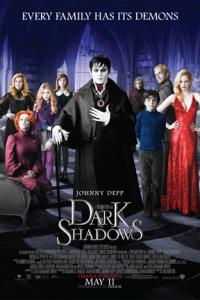 Info
Runtime :: 112 mins
Release Date :: May 11, 2012
Language :: English
Country :: United States

Kevin Taft is a screenwriter/critic living in Los Angeles with an unnatural attachment to 'Star Wars' and the desire to be adopted by Steven Spielberg.
Comments on Facebook