Wanderlust
A few years ago having the name Judd Apatow attached to a movie was a guarantee for a specific type of raunchy comedy, usually widely praised. While Apatow has only actually directed a handful of films, he has helped to slap his name on a dozen films with varying degrees of success. While "Wanderlust," his latest, doesn't much resemble his other films, it gets enough right to leave you entertained.

At its heart "Wanderlust" is about trying to find your own happiness, regardless of the path you might eventually take in order to discover it. For George (Paul Rudd) and Linda (Jennifer Aniston), at the start of the film they are happily setting down roots by buying a "micro-loft" apartment in New York's West Village. But when their world is suddenly turned upside down and they are left with no money, loft or jobs, they end up at a hippie commune called Elysium where they begin to question what would truly make them happy. While George is initially in favor of returning to the compound after a horrific stay with his brother, the tables quickly turn with him looking for a way out while Linda drinks the Kool-Aid offered by the charmingly enticing Seth (Justin Theroux).
As expected, Elysium is chocked full of kooky characters. Writers David Wain, who also directs the film, and Ken Marino, with a co-starring role as George's overcompensating pompous brother, throw a lot of crazy at the audience in a short amount of time. The numerous characters are a lot to take, which is a shame because there isn't enough time in the short 98 minutes for each to get a chance to shine. It's easier to remember them by their weirdness than by their names..

The film is filled with members of "The State" that Wain and Marino appeared in during its MTV show's run, as well as actors like Rudd, who have joined the troupe throughout the year. Using actors that have worked together helps create the community feel. But with the pedigree involved, the film is targeted towards their specific audience. Anyone who is looking for a standard Jennifer Aniston comedy is going to be severely disappointed as the film is a departure from her usual fare, but might get her more credibility.

Along with the members of "The State," the film also features "Saturday Night Live" alum Michaela Watkins. The comedienne, as a bored housewife, kills in the film. After her surprising departure from the late night staple, she proves that it was their loss. Actress Kathryn Hahn, on the other hand, does herself no favors by basically revisiting the character from last year's "My Idiot Brother" and amplifying her annoyance factor. Hahn is typically a likeable actress, but her recent string of films is doing her a disservice.
"Wanderlust" is able to offer laughs, but many of the gags go on too long. The film doesn't miss any opportunity to make a joke about the Elysium residents' removal from modern technology. Lingering too long is the Achilles heel of the film to stretch the laughs. Even at a relatively short, and fast moving runtime Wain and Marino have shoehorned things into the film that feel like afterthoughts. A tired subplot about a casino developer trying to take the land away from Elysium's residents is lame. Its resolution in the final moments feels partly tacked on in an attempt to get one last laugh out of a joke involving the acid-affected memory of the cult founder (a slumming Alan Alda) that wasn't funny in the first place.

While the quirky characters of Elysium are looking for their happiness, you will find fleeting enjoyment until the credits roll. The brand of humor, and possibly the level of raunch, may keep "Wanderlust" from being a huge mainstream hit but it definitely has the makings of a cult favorite.
Wanderlust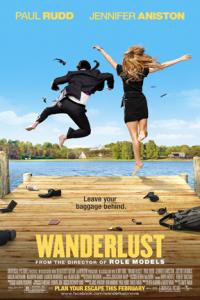 Info
Runtime :: 98 mins
Release Date :: Feb 24, 2012
Language :: English
Country :: United States

Comments on Facebook