Snow White And The Huntsman
"Beauty is power," says Queen Ravenna (Charlize Theron) as she stabs a dagger into the heart of her newly married husband - a king who promptly dies and whose kingdom is soon taken over by Ravenna and her skanky brother. Permanent winter descends, as does poverty and starvation for the peasants; but Ravenna remains youthfully beautiful as she stalks the castle in a series of couture gowns that suggest what John Paul Gauthier might design for Madonna in a Goth mode.

Her secret to eternal youth comes at a high cost - she must suck the life out of young woman to remain the most beautiful of them all. Yes, there's that magic mirror from the famous Disney cartoon, but here it appears to have fallen from "Game of Thrones." There are the dwarfs, but they have more in common with the rustics from "A Midsummer Night's Dream"; and then there's Snow White, who starts out as a frightened teenager and morphs into Joan of Arc in the final act. "Snow White and the Huntsman" is a jumble of found cultural artifacts that shouldn't fall together, but they do in a most invigorating way.
Newbie director Rupert Sanders comes from the world of commercials and video games, which may be why individual sequences in the film are so strikingly beautiful: a "Narnia"-like moment in which Snow White gets the benediction from a mystical forest creature is stunningly staged, though its quasi-religious subtext borders on camp. Only Mel Gibson could have seen the famous Grimm story as some Christian allegory, but screenwriters Evan Daugherty, John Lee Hancock and Hossein Amini draw from many sources - including religious ones - in turning this oft-told tale into something close to an opera.

Like many operas, it is very serious - no cute dwarves here as in "Mirror Mirror," the recent comic treatment of the same story. The dwarves here could have wandered out of Shakespeare - indeed, they're played by a top-notch crew of British actors who likely would be playing Shakespeare if they weren't in this film: Ian McShane, Ray Winstone, Eddie Marsan, Toby Jones, Nick Frost, and Bob Hoskins. And the Queen could give Puccini's Turandot a run for her money. As played by Theron, she's an icy beauty with a bad attitude.
Theron steals the movie, not only because costume designer Colleen Atwood puts her in a fantastical cloak that looks like it's comprised of a flock of ravens, but also because her imperious nature has an other-worldliness to it. She's black magical - an embodiment of evil. Little wonder no one cracks a joke in her presence - rather than laughing, she'd suck the life out of them. In her last film - the perverse "Young Adult," Theron brought little sympathy to her narcissist character; here she is oddly empathetic - driven by vanity and the need to control. She's not unlike some Joan Crawford creation (there are at times she resembles Faye Dunaway from "Mommie Dearest;") and in some ways her struggle can be seen as an allegory for what middle-aged actresses must face in Hollywood, especially when they have to deal with upstarts like Kristen Stewart.

Stewart has never looked more beautiful than she does here. (It's a relief after her sickly pregnancy in the last "Twilight" movie.) There are shots where you understand why Sanders cast her as the loveliest of them all. But the screenwriters make her into a quasi-feminist heroine who gives a speech to rally her troops not unlike that of Henry V; and it rings hollow; largely because Stewart appears to be more aware of her posh British accent than she is of the sentiments she's proclaiming.
Hinging the story on this battle between these two women does give the movie a curiously feminist tone, which makes the men little more than eye candy. But when they're Chris Hemsworth (charming as the drunk Huntsman) and Sam Claflin (fine as the young Prince who loves Snow White), it's a plus that both bring some nuance to their stock, heroic characters. It's fitting that the film ends with Snow White being crowned Queen, but without a consort, who both look on. In this re-telling, happily ever after may mean Snow White plays the field.

Perhaps the battle for Snow White's heart (will it be Team Huntsman or Team Prince?) will make up the sequel; but it only underscores the baggage that Stewart brings along from her "Twilight" success. Yet "Snow White and the Huntsman" has the courage of its convictions, which is to re-invent the Grimm fairytale for today's audiences, with spectacular CGI effects and a dark tone that brings the viewer back to the creepy danger experienced when reading the story for the first time. It recalls "Excalibur" in its imaginative treatment of a familiar tale and very well may turn out to be an instant classic.
Snow White and the Huntsman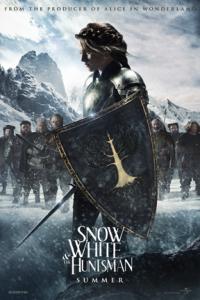 Info
Runtime :: 127 mins
Release Date :: Jun 01, 2012
Language :: English
Country :: United States

Comments on Facebook