The Best Exotic Marigold Hotel
Director John Madden and screenwriter Ol Parker owe the exceptional cast of "The Best Exotic Marigold Hotel" a debt of gratitude. Although their adaptation of the Deborah Moggach novel, "These Foolish Things," has its charms, it also is, at times, unabashedly shallow. But this problem is not as bad as it should be because the movie features Judi Dench, Bill Nighy, Maggie Smith, and Tom Wilkinson, all of whom can be great without the benefit of great material.

At least initially, the movie seems primed for a fuller round of accolades, since it focuses on a subject ready-made to tug at the heartstrings, as well as the conscience. It follows a septet of retired Brits who are dealing with the worries, indignities, and regrets that come from being on the wrong side of the actuarial table. Sexual insecurity, failing health, meager funds, boredom, crushing loneliness: each of the movie's characters is beset by some combination of these bitter rewards for a long life. Perhaps most frustratingly, they must also confront the difficulty of scrounging much sympathy from younger generations, who, with time on their side, do not want to be reminded that someday it will be their enemy too.
Marginalized and miserable at home, the group of mostly strangers journeys to Jaipur, India, where a young entrepreneur named Sonny (Dev Patel) has turned his family's hotel into a retirement community for the United Kingdom's unwanted aged. To his moneymaking, though in no way callous, mind, elder care is just one more indispensable service self-involved Westerners can outsource to the Asian subcontinent.

A strong set-up for poignant commentary, the movie's actors develop it as far as Parker and Madden will let them. But, unfortunately, Parker's script suffers from character bloat, so the effort to flesh out its ideas through a fully realized performance is not an easy task. In the final assessment, really only Dench, Nighy, Smith, and Wilkinson manage to cut through the clutter, while Ronald Pickup and Celia Imrie, spicing up the travel group as a pair of randy British seniors, barely register.

Particularly touching are Dench and Wilkinson, each portraying people who are trying to overcome a lifetime of regrets. Dench's character, the recently widowed Evelyn, is a woman who, ruefully, let her late husband call all the matrimonial shots, which were neither exciting nor wise. Freed by his death, she now is determined to pack as much adventure as possible into her remaining years.
In Graham and Douglas, played by Wilkinson and Nighy respectively, she finds kindred spirits. Graham, a retired High Court judge and gay man, once knew happiness, having spent his youth in colonial India, where he met the love of his life. Sadly, he had to forsake his Indian paramour because of social and cultural pressures against homosexuality. By returning to Jaipur, he is hoping to reconnect with a past he never should have abandoned.

As for Nighy, he exhibits his usual carefree grace as Douglas, a former public servant whose profligate daughter has drained the savings accrued by him and his obnoxious wife Jean (Penelope Wilton) over the length of their increasingly unhappy marriage. For them, India is the best cut-rate retirement option available, though Douglas is not just a penny-saver. Like Evelyn and Graham, he wants India to change him, a desire that conforms to one of the movie's central messages: transformative experiences are not just for the young.

Other than simply being in India, however, Madden and Parker give little reason as to why their characters would become new and better people. With only a few exceptions, their interactions with the locals are trite, possessing the same emotional depth as a travel brochure. In this vein, the filmmakers do a complete disservice to Graham by never figuring out what he would say to his Indian ex-lover, or vice versa, after they are reunited. Their conversation happens off-screen, which is an aggravating cop out.

Essentially, the filmmakers' major flaw was thinking they could set their movie in India without knowing much about Indians. Their ignorance is most saliently reflected in a storyline involving Sonny and the two major female figures in his life: his overbearing mother (Lillete Dubey), and his lower-born girlfriend (Tena Desae). A blithe treatment of Indian marriage and the caste system, it amounts to nothing more than well-intentioned rom-com fluff.

When it comes to overcoming the movie's Brit-centric glibness, nobody does a better job than Smith, whose character is laden with a ridiculous narrative arc. As Muriel, a feeble though pugnaciously racist ex-domestic, Smith must go from abrasive Indian-hater to cuddly untouchable-sympathizer, all so the movie can have its sentimental coup de grâce. That Smith almost pulls off Muriel's personality transplant, without any meaningful script support, is as close to extraordinary as the movie becomes.
The Best Exotic Marigold Hotel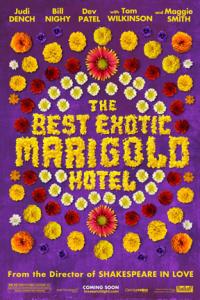 Info
Runtime :: 124 mins
Release Date :: May 18, 2012
Language :: English
Country :: United Kingdom

Joseph Pisano is a freelance writer living in New York.
Comments on Facebook