The Pirates! Band Of Misfits
A movie that features Imelda Staunton as Queen Victoria and David Tennant as Charles Darwin probably does not seem like an ideal kid's flick. Rest assured, however, that the claymation geniuses at Aardman Studios had no interest in weighing down their rollicking, deeply brilliant and just a touch subversive "The Pirates! Band of Misfits" with anything so grown-up as historical accuracy. Although entirely forgivable given the movie's light-hearted aims, teachers should also be forewarned: your pupils may pose an odd question or two about Jane Austen's tempestuous romance with Joseph Merrick, which, according to "The Pirates," began in a pub.

Set in 1837 (yes, yes, Austen was dead and Merrick was not even born yet), the movie follows a gang of feckless British pirates on their bumbling journeys across the high seas. Led by The Pirate Captain (voiced well and unrecognizably by Hugh Grant), a permissive egotist with an overcompensating beard, the crew lives in blissful ignorance of its own inadequacies. They may not intimidate landlubbers or have chests abounding with doubloons - oh, and their parrot is oddly chunky, too - but, still, they are a merry lot, enjoying much camaraderie and participating in giddy celebrations like Ham Nite, a fantastic idea if there ever was one. Their ship, essentially managed via the live-for-today principles of a frat house, sure seems like a fun place to wile away the nineteenth century.

The Pirate Captain, though, does not realize how good he has it nor, more importantly, the pathetic limits of his piratical abilities. And, so, foolhardily, he ends up throwing his tricorn into the ring for the Pirate of the Year award. On Blood Island, a pirate hideaway where contest entry forms must be submitted (because in the topsy-turvy Aardman universe, pirates are apparently solid record-keepers), he comes face-to-face with his rivals for the top prize, each of them a pillaging superstar: Peg Leg Hastings (Lenny Henry), Cutlass Liz (Salma Hayek), and the whale-conquering Black Bellamy (Jeremy Piven). They mock The Pirate Captain mercilessly, finally making him understand that a pirate without booty is no pirate at all.

In an attempt to burnish his dastardly reputation, The Pirate Captain sets out to fill his hold to the brim with other people's treasure. But changing his harmless ways proves to be trickier than he had imagined. After repeatedly making the most obvious pirating mistake by attacking moneyless ships, he finds himself on the verge of total despair when his fortunes take a strange turn. In his next plundering attempt, he boards the HMS Beagle and encounters its most famed passenger, the aforementioned Mr. Darwin, whose knowledge of the natural world becomes ludicrously beneficial to The Pirate Captain.

Screenwriter Gideon Defoe, who also wrote the book "The Pirates! In an Adventure with Scientists" on which the movie is based, gleefully libels Darwin, with hilarious results. Filtered through Defoe's wickedly inventive mind, Darwin, the noble man of science, becomes a sniveling virgin with a monkey valet named Mr. Bobo (an end credit notes that he plays himself in the movie; without reservation I can report that he does a terrific job). Additionally, the devastatingly shy Darwin has a huge crush on Queen Victoria, the other major target of Defoe's farcical revisionism.

In the movie, the monarch is the bane of pirates everywhere, which actually has a whiff of truth to it. Given the real queen's dour and prudish reputation, she almost certainly would have hated any free-spirited pirates roaming the oceans. So, score one for the historians in the audience!

On the other side of the veracity ledger, Queen Victoria probably was not a member of a secret international clique devoted to doing something that might make Cruella de Vil cringe. And it is doubtful she was endowed with a derrière so large you could serve tea and crumpets on it. Again, teachers, be forewarned!

Not beholden to their Plasticine, directors Peter Lord and Jeff Newitt turn to CGI when the visual complexity of their story requires it. Fans of Aardman favorites like "Wallace & Gromit" and "Chicken Run" need not fret, however; like its predecessors, "The Pirates!" is full of beautifully hand-crafted stop-motion animation, laboriously rendered frame by frame.

The only disappointing aspect of "The Pirates!" is knowing it took five years to complete, suggesting a sequel is not coming soon. Aaargh!
The Pirates! Band of Misfits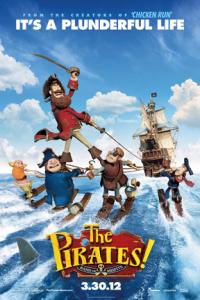 Info
Runtime :: 88 mins
Release Date :: Apr 27, 2012
Language :: English
Country :: United States

Joseph Pisano is a freelance writer living in New York.
Comments on Facebook