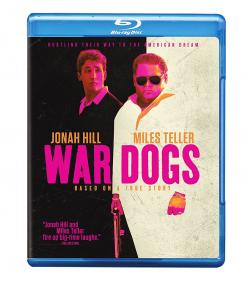 Get in on the action when "War Dogs" arrives onto Ultra HD Blu-ray Combo Pack, Blu-ray, DVD and Digital HD. From director Todd Phillips ("The Hangover" trilogy) comes "War Dogs," starring Oscar® nominee Jonah Hill ("The Wolf of Wall Street," "Moneyball") and Miles Teller ("Whiplash," the "Divergent" trilogy). The film also stars Oscar nominee Bradley Cooper ("American Sniper," "American Hustle") and Ana de Armas ("Knock Knock").

Based on a true story, "War Dogs" follows two friends in their early 20s (Hill and Teller) living in Miami Beach during the Iraq War who exploit a little-known government initiative that allows small businesses to bid on U.S. Military contracts. Starting small, they begin raking in big money and are living the high life. But the pair gets in over their heads when they land a 300 million dollar deal to arm the Afghan Military-a deal that puts them in business with some very shady people, not the least of which turns out to be the U.S. Government.

"War Dogs" will be available on November 22 on Ultra HD Blu-ray for $44.95, Blu-ray for $29.98 and DVD for $28.98. The Ultra HD Blu-ray Combo Pack features the film on Ultra HD Blu-ray disc in 4K with HDR, a Blu-ray disc with special features in HD, and a digital version of the movie in Digital HD with UltraViolet*. The Blu-ray includes the film in high definition on Blu-ray disc with a digital version of the movie in Digital HD with UltraViolet*, and the DVD features the film in standard definition. Fans can also own "War Dogs" via purchase from digital retailers beginning on November 11.

SPECIAL FEATURES:

General Phillips: Boots on the Ground
War Dogs: Access Granted
Pentagon Pie

#WarDogs

https://www.facebook.com/WarDogsMovie

Enter to win!

Thanks for visiting EDGE!

Enter this contest
If you already have an account with EDGE, all you need to do is log in; we'll pull your address information from your account and simply ask you to verify it. If you do not yet have an account with us, register now! It's easy and free, and you'll never have to type in your personal information again. If you prefer to enter this information manually, you can use the manual entry link below.
Register
Manual Entry
Click here for contest rules.
* Please be aware that creating multiple accounts for the same person will disqualify you.