Ruby Sparks
A modern, indie take on "Pygmalion" mixed with a bit of "Weird Science," "Ruby Sparks" is a bundle of ideas that sometimes works and sometimes doesn't, but that doesn't make it any less entertaining. Tonally confused, the film is about a successful writer named Calvin (Paul Dano) who is having trouble starting his second book. Feeling alone and neurotic (in a slacker Woody Allen way), he dreams of a mysterious girl and begins to write a novel based on what he foresees a relationship with her would be like. One morning he is in a rush to get to a meeting with his editor when he realizes his dog needs to be taken out. A female's voice comes from the kitchen. "I'll do it." Before he can comprehend what he's actually heard, he realizes that the woman he's created on paper is now standing in his house. Her name is Ruby Sparks (Zoe Kazan) and she is (quite literally) the girl he dreamed up.

Much of the early part of the film is Clayton trying to figure out if Ruby is real. After realizing that other people can see her - including his brother Harry (Chris Messina) - he is convinced she is flesh and blood. He also realizes that he can change who she is by simply adding details to the book he's writing. If he states "Ruby is fluent in French," Ruby will begin speaking French. If he says she is "effervescently happy all the time," she will be. At one point, the "real" Ruby seems to be drifting apart from Clayton so he writes that she misses him. Suddenly, Ruby can't be away from Clayton for more than a second. If she isn't physically attached to him she drowns in depression.
And this is the theme of "Ruby Sparks." How far can we go in creating the person we want to be with? And at what point do we allow them to be themselves and accept them for who they really are? At the beginning of the film, Clayton tells his therapist (Elliot Gould) that his dog has all these idiosyncrasies and he doesn't think people will like him. What he's really saying is he doesn't think anyone could love him. So he creates someone that does. Likewise, his hippie-dippie mother (Annette Bening) lives with her lover (Antonio Banderas) in an oversized wooden retreat, smoking pot and crawling into tree houses. Clayton tells Ruby that his mother was never like this until she met her current beau, suggesting that the lover might have (in a way) created who his mother is now. Someone he can love.

In that, "Ruby Sparks" plays on the conventions of how we fall in love, how we change and/or manipulate people into being what we want them to be, and how we finally have to let them be who they are. This is what "Ruby Sparks" does well. What it stumbles a bit with is the fact that what seems like a quirky and whimsical comedy actually plays a bit more serious and even a bit creepy toward the end. Rather than a rom-com score, Nick Urata's "Phillip Glass-esque" soundtrack gives the film a brooding, off-kilter feel that isn't as light-hearted as you might expect. In fact, the entire concept is so light that it throws you off-kilter when it starts getting unnerving.
Writer and star Zoe Kazan has a clever script that could have worked on a mainstream level, so it's curious as to whether directors Jonathan Dayton and Valerie Faris ("Little Miss Sunshine") gave it the weird tonality it has, or if it was written that way. Regardless, there is a lot to like. Dano is good in his role, if not expected based on other characters he's played. Kazan is her most charming here and truly gives the character a depth and tangibility that makes us care about her - even though we're not sure if she's truly real or not.

The script itself isn't as funny as one might expect, but there are sequences that elicit some chuckles and the ominous third act finale is pretty fascinating. There's even some genuine emotion that bleeds out of the proceedings even though we get no real answers about Ruby's creation and the ending is a bit too pat.

Regardless, I found myself wondering where the film was taking me. And although I predicted the final scene, the rest of the film wasn't so easy to figure out. In fact, I'm still trying to run it through my head to make sense of some of it. And for that, I am grateful. I can feed myself. I don't need someone to do it for me.
Ruby Sparks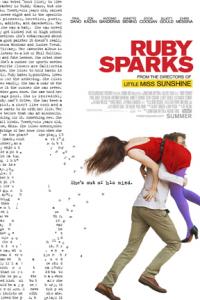 Info
Runtime :: 104 mins
Release Date :: Jul 25, 2012
Language :: English, French
Country :: United States

Kevin Taft is a screenwriter/critic living in Los Angeles with an unnatural attachment to 'Star Wars' and the desire to be adopted by Steven Spielberg.
Comments on Facebook