In Darkness
If the genocidal horror inflicted on Europe by the Nazis brought anything of enduring utility to our racial consciousness, it's an inkling of the depths of depravity to which the human animal can sink. But the Holocaust also showed how determined a targeted class of people (be they Jews, gays, religious minorities, gypsies, or whoever) can be to survive, and the lengths they'll go to in order to preserve their own lives and those of their children.

What the Holocaust also showed was that there will always remain some small number of people who defy generalized apathy, cowardice, and prejudice in order to offer aid, even at risk to their own lives. Agnieszka Holland's film "In Darkness" plumbs both the sewers beneath the Polish city of Lvov, where a number of Jews fled to avoid being massacred, and the eclipse of mental and moral light that brought terror to Nazi-occupied nations as World War II raged.

The film, based on a true story and a book by Robert Marshall, introduces us to an unlikely hero named Leopold "Poldek" Socha (Robert Wieckiewicz), a sewer worker by day and thief by night, a guy who dismisses the Jews as "Yids" and breaks into abandoned homes to steal their treasures. When Poldek and his partner in crime (who also happens to be his partner at work) encounter a group of Jews in the sewers, they agree to become the refugees' caretakers--but not out of Christian love or in order to fulfill Jesus' directive to help and comfort the oppressed. It's all about cold, hard cash: Poldek could get 500 zlotys per Jew from the Nazis, but there's no hurry. He could also charge the refugees 500 zlotys per day to keep them safe, keep their secret, and bring them rations.

But his role as protector starts to change Poldek's views, and the counsel of his wife, Wanda (Kinga Preis) weighs on his mind. Wasn't Jesus himself a Jew? And the Virgin Mary? Wanda herself runs hot and cold on the idea of harboring Jewish refugees, but her reservations are outstripped by her fundamental character: When she has a chance to profit personally off the Jews' plight, Wanda turns it down.

This is no happy and uplifting film, however. The Jews, who spent over a year in the sewer, start to suffer dissent and discord, and even to turn on one another. Still, even in the midst of their terror, down among the lightless passages with rats and excrement, there shine threads of hope: Young men court young women, and selfless acts of valor counterbalance examples of treachery that undermine morale.

The film's overall affect is one of suspense and outrage. Poldek learns soon enough that the risks he takes, defying the law and deflecting the suspicions of an old friend who has become a Nazi officer, might just as well be part and parcel of a more timid life. The Nazis, of course, are not content simply to wipe out the Jews: They start to treat the Poles just as badly, hanging a number of innocents when one of their soldiers turns up dead.

The movie is long, and covers a lot of (under)ground. There are narrative dead ends and sometimes the film seems to double back on itself; more unsettling than anything is the pervasive darkness, which is interrupted by disorienting flashes of brilliance. As a metaphor for madness on a social level, the film's look and structure is perhaps a little too effective.

"In Darkness" will linger with the viewer, and it should, but this is no Disney affair. Worse than the muck and rats is the sense of pure human evil this film captures: This is a document of death, misery, and rats, a vision of Hell right here on Earth. We may want to forget such things--but wanting to forget is in itself a warning that we ought never allow ourselves to do so.
In Darkness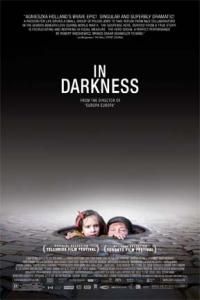 Info
Runtime :: 145 mins
Release Date :: Feb 10, 2012
Language :: Polish, German, Yiddish, Ukrainian
Country :: Canada

Kilian Melloy serves as EDGE Media Network's Assistant Arts Editor. He also reviews theater for WBUR. His professional memberships include the National Lesbian & Gay Journalists Association, the Boston Online Film Critics Association, The Gay and Lesbian Entertainment Critics Association, and the Boston Theater Critics Association's Elliot Norton Awards Committee.
Comments on Facebook