The Woman In Black
The long heralded Hammer production team makes their glorious return with The Woman in Black, a delightfully spooky haunted house tale. Most will take note of this gleefully entertaining horror film not because of Hammer Horror but rather because it's the first post-"Harry Potter" performance from Daniel Radcliffe; and he does not disappoint.

Despite a terribly annoying (and completely unnecessary) second act, Radcliffe's harrowing performance is able to carry the film to an emotionally effective conclusion. It may not fit in with today's horror trends of torture porn and purposefully shaky "found footage" films, but "The Woman in Black" is a heavenly treat for all those with a taste for Victorian horror.
Radcliffe fans can abandon fears that he will be lost without his trademark glasses and Potteresque birthmark: he's absolutely perfect here in the role of a young widowed father. Playing Arthur Kipps, who is sent to the Victorian Eel Marsh Manor to pore through the papers of a recently deceased tenant, he pitches a delightful blend of doubt and intrigue (not to mention the fact that his boyish face, along with his unnaturally bright blue eyes, perfectly fit the demeanor of a gothic hero.)

This is a hard role to pull off; he knows the place is haunted, and we know the place is haunted, but his unquenchable desire to understand what is going on (combined with his totally melancholic monologue about wanting to reconnect with his wife after death) never leave us wondering why the character doesn't sprint out of the exceedingly creepy mansion.
That, along with the perfectly composed topography of the mansion and its grounds - visually handled with the utmost care by director James Watkins - really gives "The Woman in Black" a classically grim tone. Watkins' camera movements belie the entire layout of the mansion within the first few minutes, never forcing us to wonder where we are during the frightful moments that come later. And he's also smart enough to literally beach the mansion itself, surrounding it on all sides with a high tide that forces Radcliffe to spend his nights there with no hope of escape. That tide is not only integral to the plot (it leads to the death that puts the story in motion), but it's an important conceit that creates a claustrophobic sense of imprisonment within the film. It's a cheesy plot device, but it's hardly out of place in this unabashedly old-school thriller.

Watkins truly understands the right atmosphere for this film; he even hides a raven in the attic.

That atmosphere is improved by the creepy cinematography, which is constantly focused upon corroded children's toys and puppets. Watkins focuses his camera on their cracked glass and on their dirty porcelain faces as much as he does his actors, and it gives the entire film a disturbing, abstract quality that accentuates the ghastly happenings. And in contrast to the aforementioned "found footage" craze, his carefully composed 2.35:1 photography is a reason for celebration - it's reminiscent of the gothic horror classics to which he pays tribute.
Unfortunately, the film is held back by an annoyingly shallow second act that does little but stretch the rather thin narrative out to 90 minutes. We spend an entire night in the mansion with Radcliffe as he survives no fewer than eight attacks of paranormal activity. Each time, the camera slowly follows him from behind the back as the score music swells, until finally everything goes silent and a big scare pops up. It's a cheap effect, and it serves no purpose for the story or his character; it's simply there to make the audiences jump over and over again. Nearly a half hour is spent on this one night alone with Radcliffe, and not a single story point is moved forward. It's a cheap sequence that exists solely to extend a thin script; luckily it doesn't completely undermine the atmosphere Watkins had already created.
The Woman in Black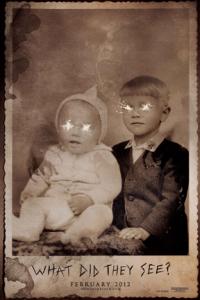 Info
Runtime :: 95 mins
Release Date :: Feb 03, 2012
Language :: English
Country :: United Kingdom

Comments on Facebook