Albert Nobbs
At first it's hard to recognize Glenn Close in "Albert Nobbs." Her hair is cropped short and pushed beneath a bowler hat, her man's suit hangs on her body in a loose, androgynous manner; her voice is soft but firm, not feminine, but not really masculine either. In fact, Close eschews any sexuality and all but withdraws into her male attire - it is the clothes that make this man and they're worn like armor.

She needs that protection. In the film, directed by Rodrigo Garcia, Close plays a waiter in a Dublin hotel at the turn of the 20th century - a woman living as a man, which she has done for most of her adult life. Now middle-aged, she has perfected her disguise, but never lets her guard down. Fear of being discovered consumes her life - there is no escape from her self-imposed prison.
That the illusion is carried out with such exacting technique by Close makes "Albert Nobbs" a rich and very bittersweet film. Her Albert is an infinitely sad character, but also a comic one - Forrest Gump as a drag king. Her naiveté is oddly touching and a bit unnerving. Could she have been this clueless to the ways of the world her entire life? Apparently so.

Close played the role once before, some thirty years ago off-Broadway in a play (based on the short story by George Moore). This occurred at the same time she became a movie star in "The World According to Garp." Since then she has longed to film the story, but it didn't come into fruition until the last decade. But had she made the movie at an earlier time, would her approach have been lighter and funnier - more like a cross-dressing character out of Shakespeare than the darker, poignant quality she brings to this performance? And could she have hidden her femininity as well as she does here?
Central to the story is Albert's journey to self-discovery. It happens almost by accident. Into the bustling world of genteel, if slightly dowdy establishment with a comically pretentious proprietress Mrs. Baker (the excellent Pauline Collins), comes a genial housepainter Hubert Paige (a memorable Janet McTeer). Because of a shortage of rooms, he must share a bed with Nobbs. Nobbs' sex is, of course, discovered, and she fears exposure; that is until she learns that Paige is also a woman, one who has integrated her cross-dressing persona in a far more satisfying way. In short, Paige embraces life; Nobbs runs from it.

Yet discovering this alternative strikes hope in Nobbs - perhaps he can buy a shop and live there with a wife, just as Paige does. He even has an intended: Helen (Mia Wasikowska), a pretty, sulky maid involved with Joe (Aaron Johnson), a good-looking workman recently hired by Mrs. Baker to fix the boiler. Instead of becoming jealous when he learns Nobbs is sweet for Helen, Joe tells her to get close to the older man, if only to play him for money and gifts.
Against this central story are the lively goings-ons of the hotel, which unfold in broad strokes as a cross-section of hotel guests and staff intermingle. At times, the film recalls the work of James Ivory ("Remains of the Day") in its stylish evocation of a distant time and place. Michael McDonough's photography captures the look of a snowy Victorian Dublin in a style reminiscent of John Huston's "The Dead." (The handsome production design is by Patrizia Von Brandenstein, with costumes by Pierre-Yves Gayraud.) And Brian Byrne's lilting music delicately underscores the action.

Garcia has a keen understanding of the psychological dynamics of the story, as well as pulling back with just the right touch of irony when the film needs to. This is Albert's story, but it doesn't play out as he may dream it should. This may be why this lovely ensemble film has such bittersweet resonance.
Close sometimes brings to mind Garbo with her stoic expressions and self-conscious speech. Her Albert is an actor and Close skillfully portrays her charade, but she also brings us inside her, not just to feel her longing and pain, but to capture her inability to understand the complexities of relationships.

"Albert Nobbs" is not a gay film in the conventional sense, yet touches upon issues of identity in surprising, droll ways. If the film had been made twenty years ago, its sexual politics would likely have been more pronounced. Here they are subtlety textured into the whole, making the film more lyric than polemical. No moment in the film captures this sensibility better than when Nobbs and Paige don female attire and take a walk to the beach. At first the site of the two of them is comic - the awkwardness is palpable. But when they get to the beach, the moment is liberating and deeply touching. For one moment, at least, Nobbs gets a glimpse of might-have-been with quiet eloquence.
Albert Nobbs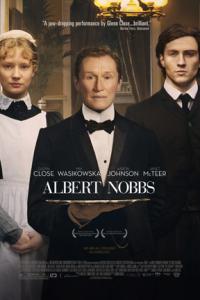 Info
Runtime :: 113 mins
Release Date :: Dec 21, 2011
Language :: English
Country :: Ireland

Comments on Facebook