Gay Los Angeles: The Latest
Daylight saving time is an artificial way of adjusting time, but nothing changes when the sun rises and sets.
Texas Gov. Greg Abbott has signaled he will sign legislation that Republicans say is a defense of Chick-fil-A and religious freedom, but gay lawmakers sometimes tearfully railed against it on the House floor as a license to discriminate.
The shooting deaths of two transgender women and the stabbing of a third are being investigated to determine whether they are connected, police in Dallas said Tuesday.
One of Africa's best-known authors and gay rights activists, Binyavanga Wainaina, has died at age 48, a colleague and friend said Wednesday.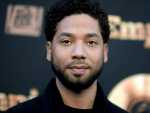 A former judge who wants a special prosecutor appointed in the Jussie Smollett case is back in court with new motions to obtain her goal.
Twenty-five years after premiering "Pulp Fiction" in Cannes, Quentin Tarantino returned to the French film festival with neither great vengeance nor furious anger but a gentler fairy tale about 1960s Los Angeles.
Following in the lucrative footsteps of "Beauty and the Beast" and others, Disney is taking another shot at "Aladdin," this time in live-action. The film, from director Guy Ritchie, opens nationwide Friday.
In its last blast, "The Big Bang Theory" topped the TV ratings by a light-year.
The discovery of handwritten wills in the home of the late Aretha Franklin could ignite a dispute among family members about the estate of the "Queen of Soul."
More Democrats are calling — and more loudly — for impeachment proceedings against President Donald Trump after his latest defiance of Congress by blocking his former White House lawyer from testifying.
North Korea has labeled Joe Biden a "fool of low IQ" and an "imbecile bereft of elementary quality as a human being" after the U.S. presidential hopeful called North Korean leader Kim Jong Un a tyrant during a recent speech.
Aaron Schock is back in the news for being photographed at a LA gay hang out with a Speedo-clad companion.
Hungary needs to urgently address human rights violations such as the detention of asylum-seekers and the intimidation of civic groups, as well as concerns about judicial independence, according to a report released Tuesday.
Google is assuring users of Huawei smartphones the American company's basic services will work on them following U.S. government restrictions on doing business with the Chinese tech giant.
You won't pay for health care in retirement with one lump sum. That's the way these expenses are often presented, though, and the amounts are terrifying.
Ford revealed details of its long-awaited restructuring plan Monday as it prepared for a future of electric and autonomous vehicles by parting ways with 7,000 white-collar workers worldwide, about 10% of its global salaried workforce.
As Mexico City's 9 million residents sleep in the pre-dawn darkness, busy hands are already preparing the day's corn tortillas in the small kitchen of Molino El Pujol.
Advocates for legalizing marijuana have long argued it would strike a blow for social justice after a decades-long drug war that disproportionately targeted minority and poor communities.
The 79-room annex at Mount Rainier National Park's Paradise Inn has reopened after a $25 million renovation.
The annual GLSEN Respect Awards were held at Cipriani 42nd Street to honor the work of student leaders, educators, community organizers, influencers, and corporations who serve as exemplary role models and have made an impact on LGBTQ youth.